Tuesday, 22 November 2016
Saturday, 21 December 2013
Friday, 5 April 2013
I found that many users search about "how to open blocked websit" or "Bypass proxy server" or "Hide me" or "Access blocked websites" etc.
Now I give you best Web Browser that can do all these work and more. This web browser name is Web Freer.
Web Freer is a web browser that let you visit any web site fast, securely, and privately. simply download Web Freer Browser by clicking on Download Here link and Install it just double click on setup exe file, open any website in this browser, you will get there with high security through its HTTPS connection.


Friday, 31 August 2012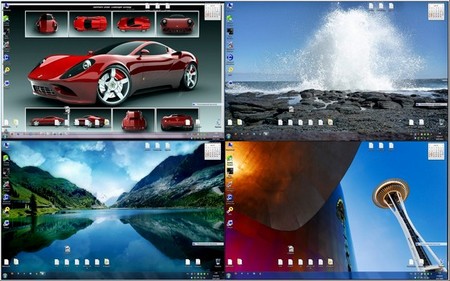 Virtual desktop tools have been around a long time. They tend to be a good idea that somehow fails in implementation, often because it's just a nuisance to switch between desktops. So we didn't muster a lot of enthusiasm for Dexpot--until we tried it, that is. Yes, it enables you to create totally separate, customized desktops that you can switch between, though it's actually easy to do in Dexpot. But Dexpot offers enough choices to create useful desktops and enough ways to quickly view, change, and configure them to answer our concerns.
Dexpot's system tray icon accesses the program's functions and settings, beginning with the ability to select Desktops 1 through 4 with a click. As we mentioned, Dexpot offers a lot of ways to view your stuff, such as the Windows catalog button that opens a scrolling display of all open windows, four at a time, or the Desktop Manager, a small bar giving instant access to all four choices from the lower right corner. There's even a full-screen preview option that shows all four available desktops grouped together. The Settings sheet contains numerous options for configuring Dexpot's appearance and behavior, while the Configure Desktops wizard made it easy to set up four different looks. But while Dexpot enables individual screensaver, background, and even resolution settings, it goes deeper than appearances with the ability to enter startup commands, enable password protection, play sounds, and other options. A Desktop Rules wizard let us further customize each desktop with specific Conditions and Actions, including the ability to set exclusions.
The true test of virtual desktops is whether you keep using them. But Dexpot has some advantages that could make it indispensable. For instance, the ability to customize your display resolution could come in handy if you like to send video from your computer to your TV but lack multiple output settings. You can set a video-specialized desktop in Dexpot and just click to switch when you're in the mood for a movie. It's also great for families, working at home, gaming, and any situation that calls for a different desktop.
Wednesday, 11 July 2012
The PC Suite connections, features, and add-on applications available to you after installation depend on your phone's built-in software. This software will enable you to connect your mobile phone to any desktop PC to sync data, back up, download and install software, update software, share pictures and music between the mobile phone and PC.
For a free program, this multipurpose image tool strikes us as a good find. Although the main interface looks too cluttered with buttons at first glance, the three main windows are intuitive enough once get your bearings. FastStone Image Viewer for Windows boasts a nice default design, but you can customize it to your liking with several skins.
Clicking a thumbnail puts a larger view of the shot in the lower-left pane, and you zoom in simply by dragging the mouse around. Though its image-editing tools can't compete with those offered by a full-featured suite, there's still enough here to make a decent amount of tweaks to your shots. You can resize, crop, remove red-eye, and adjust color, brightness, and contrast. You'll also find a few simple effects and filters, including Lens, Waves, and Morphs. Other nifty features include multiple folder slide shows, batch cropping and Windows Vista support.
FastStone Image Viewer for Windows can batch-convert files into a number of popular image formats including GIF, BMP, PSD, and PNG, and the slide-show creator allows you to apply transitions, specify the interval between images, and add your own MP3s as a soundtrack. We can recommend this program to everyone but professional designers.
AVG Anti-Spyware offers a high protection level, bolstered by useful features, for a reasonable cost. After 30 days, some of the features get disabled, but you're still able to search for and remove malware, and update definitions manually.
The tools performed well but aren't for the casual enthusiast. Besides the Scanner, which offers four levels of scanning plus a fully customizable fifth, the Resident Shield blocked all malicious components we tried to install, and we were impressed with the overall level of security the app provides: there's even a shredder that offers Fast, Secure, and Paranoid levels of deletion.
The diagnostic tools are spread through different tabs, so options clutter isn't an issue. Still, there's a lot to manage, from running processes to start-up entries to connections--but the program provides little information as to which items are potentially dangerous. In some cases, the program seemed to hog an inordinate amount of memory when its real-time shield was active.
The interface is mundane, with icons floating in a horizontal top-nav bar. The main Status window had quick link jumps to control the resident shield and automatic updates. Update contained proxy connection options, Analysis offered in-depth essential information not only on system processes but Internet connections, programs running from startup, browser plug-ins, and LSPs.
Get social over the long-established, well-rounded chat and VoIP client Yahoo Messenger and you'll find drag-and-drop capabilities and contact importing from friends other IM, e-mail, and social-networking accounts who are also on Yahoo chat. Another favorite trick is the ability to see images and videos displayed inside the chat window when you or a pal drops in a public URL.
Yahoo Messenger 10 adds some visual enhancements that call out VoIP and video chats on the conversation window. Tweaks in the buddy list showcase an updates tab that operates as a newsfeed for friends' status messages. Other visual refreshes to version 10 spruce up select icons.
Users should note that the download stub will finish installing the program online, and that the download bundles the Yahoo Toolbar. In the preinstallation window, click over to Custom Install to deselect add-ons you don't want. We could also live without the heavy-handed Yahoo branding, and it would be nice to see a link to hidden smileys in the emoticon drop-down, but these are minor niggles when weighed against the benefits of an easy-to-use, feature-rich chat client that only continues to improve.
Small enough to run off a USB key, but powerful enough to download any torrent in a jiffy (if it's got enough seeders), uTorrent 2.0 is easy on the eyes and smart on your network. The memory footprint for uTorrent is very small, and system resources are barely touched. While you're torrenting, you shouldn't be surprised to find that other programs that use your Internet connection slow down, but the latest version of uTorrent has an answer to that. Called uTorrent Protocol, or uTP, it's a built-in throttling that detects network congestion and slows down the torrent until the traffic jam has dissipated.
Version 2.0 includes a transfer cap, so that users who have had limits imposed by their ISPs can keep track and automatically kill torrenting when that limit is reached. Skins have also been introduced, but there's no skins option in Preferences: instead, you must go to the uTorrent site and download and install them yourself. That's unnecessarily irritating.
The most difficult aspect of using a torrent client is still finding the torrents, but included are both a torrent search bar and a handy RSS feed download function. Subscribe to select feeds, and uTorrent automatically downloads files as they publish. Adding, starting, pausing, and listing torrents takes merely a click each. A speed guide helps you test your ports and adjust system settings for optimal performance, although watch out for the opt-out Ask.com toolbar when you install. Combined with Local Peer Discovery and DHT Network options, and Teredo and Ipv6 support, uTorrent should be the torrent program of choice for novices, intermediate, and advanced users.
If you're looking to boost your typing speed and accuracy, TypingMaster Typing Test can provide the repetitive practice you need. Just don't expect this freeware program to give you any coaching. In a typical session, you might start with the rudimentary (and rather dull) warm-up games and move on from there to the full-blown typing tests. TypingMaster offers only one kind of testing method--retyping a set text--though you can break up the monotony by supplying your own TXT files. The program can store results for several users and track their progress over several tests. At the end of each test, the program gives a brief performance evaluation, though we wish it also gave custom-tailored advice based on our typing patterns. Unfortunately, that feature is restricted to the for-pay version. In sum, TypingMaster Typing Test offers nothing to distinguish it from countless similar titles, and earns only a lukewarm recommendation from us.